HOTSPOT -
You have an Azure subscription named Subscription1. Subscription1 contains the resources in the following table: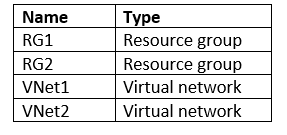 VNet1 is in RG1. VNet2 is in RG2. There is no connectivity between VNet1 and VNet2. An administrator named Admin1 creates an Azure virtual machine VM1 in
RG1. VM1 uses a disk named Disk1 and connects to VNet1. Admin1 then installs a custom application in VM1.
You need to move the custom application to VNet2. The solution must minimize administrative effort.
Which two actions should you perform? To answer, select the appropriate options in the answer area.
NOTE: Each correct selection is worth one point.
Hot Area: